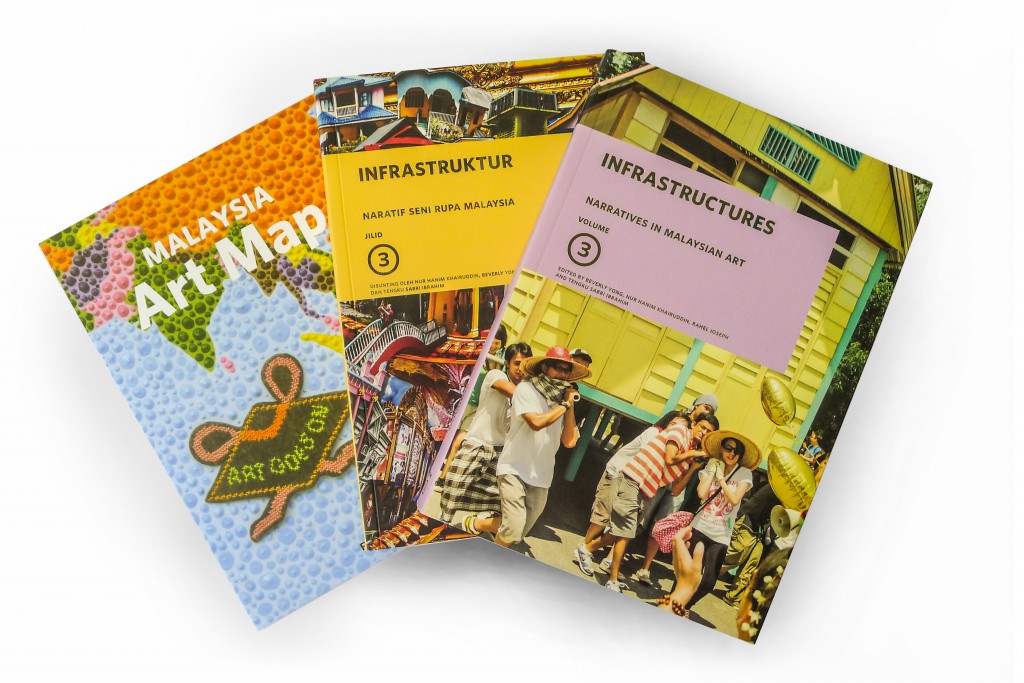 Narratives in Malaysian Art Volume 3: Infrastructures/Naratif Seni Rupa Malaysia: Infrastruktur is finally out! After three years in the making, we launched the 444-page volume (512 pages for the BM), together with a Malaysia Art Map, at Segaris Art Centre at Publika on 15 March 2016.
Congratulations to the editorial team, which includes Nur Hanim Khairuddin, Rahel Joseph, Tengku Sabri Ibrahim and Yap Sau Bin, aside from Rachel Ng and Beverly Yong. We are very grateful to the many, many people who participated in this volume. Thank you to our benefactors, contributors and readers for their patience!
For launch pics please visit http://narrativesinmalaysianart.blogspot.my/.
The books are now out in the shops at a recommended price of RM45 per copy. You can find them at:
BORDERS – All Stores
Book Zone PENANG
Kinokuniya Bookstores, KL
MPH Bookstores – All Stores
Times The Bookshop – All stores
You can also order online all three volumes (to date) of the NMA series from bookshop.gerakbudaya.com and www.rogueish.asia.
As for Volume 4: Perspectives, we look forward to announcing its completion later in the year…
The NMA Project is made possible by Khazanah Heritage and Art Initiative, CIMB Foundation, Bangsar Village (Eng Lian Enterprise), Lembaga Pembangunan Seni Visual Negara, National Visual Arts Gallery Malaysia, Mr Kenneth Tan, 30 Art Friends, Gudang Damansara, Rosemary and Steve Wong, Tenaga Nasional Berhad, Malakoff Corporation Berhad, Libra Invest Berhad, Helu-Trans (Singapore) Pte Ltd, Ekuiti Nasional Berhad and Yayasan Sime Darby, with support from the Krishen Jit-ASTRO Fund, together with Friends of the project and other private supporters.