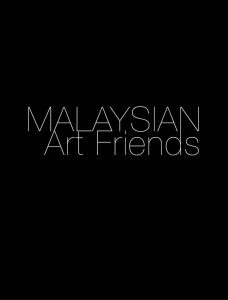 Malaysian Artfriends: Highlights from 15 Private Collections
26 June – 20 July 2010
National Art Gallery Malaysia
Why do people collect art? What does it mean to collect art? How do you start an art collection? These are questions explored in the book 30 Artfriends: Appreciating Southeast Asian Art, a project by a group of collectors from Malaysia and Singapore, in which they share their experiences acquiring and living with art.
This June, 30 Artfriends will be launched in Malaysia at the National Art Gallery, in conjunction with the exhibition Malaysian Artfriends: Highlights from 15 Private Collections. This show will feature over 40 works from the book, where each of the collectors has made a selection of three of their favourite art pieces, revealing the fascinating stories and relationships behind their choices. This is a rare opportunity for the public to view important Malaysian and Southeast Asian artworks in private hands, and to "get to know" some of the country's most passionate collectors.
Who are the Malaysian Artfriends? The collectors who have contributed to this project number among them established professionals in law, medicine and education, financiers, corporate leaders, captains of industry, and a leading film-maker, joined together by the spirit of friendship and their mutual interest in the modern and contemporary art of our country and of our Southeast Asian neighbours. As collector Pakhruddin Sulaiman, the driving force behind the Malaysian side of the project says, "we are collectively taking – through this endeavour -art collecting in this country to a higher level, a new milestone!"
Collectors form a crucial part of our cultural and artistic life, providing much support and encouragement for artistic practice. A project initiated by Singaporean collector TK Quek and collectively financed by the collectors involved, 30 Arfriends seeks to add to this support by donating profits from the sale of the book to art education and development in the two countries.
The Malaysian artists featured in their collections include such seminal figures as prioneer Georgette Chen, the late Ibrahim Hussein and Redza Piyadasa, modern masters Latiff Mohidin and Syed Ahmad Jamal, as well as prominent contemporary artists like Wong Hoy Cheong, Chang Fee Ming, Ahmad Zakii Anwar, Jalaini Abu Hassan and Bayu Utomo Radjikin, among many others.
The Malaysian Art Friends are:
Bingley Iskandar & Ima Norbinsha
Camille & Anwar Jumabhoy
Dato' Hamzah Mohd Salleh & Datin Nurlin
Datuk Rosaline Ganendra
Hanizah Aman Hashim & Abang Askandar Kamel
Prof. Dr Krishna Gopal & Kamla Rampal
Pakhruddin & Fatimah Sulaiman
Rose & Dr Kenneth Chin
Rosemary & Dr Steve Wong
Tan Sri Dato' Azman Hashim
Tengku Ibrahim Petra & Nariza Hashim
Tony Tan
Too Hing Yeap & Sin Min
U-Wei Bin Haji Saari
Yee Tak Hong
RogueArt are Project Managers for Malaysian Art Friends