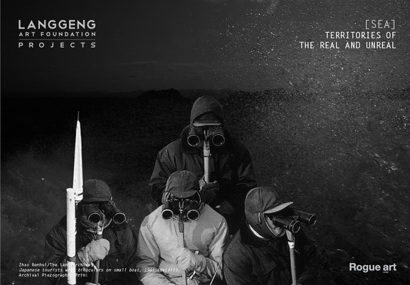 [SEA]
TERRITORIES OF THE REAL AND UNREAL:
Photographic practices in contemporary Southeast Asian Art
Langgeng Art Foundation, Yogyakarta
28 November 2011 – 21 January 2012
Curators: Adeline Ooi & Beverly Yong
We associate "territory" with notions of demarcated land, of "claimed space". Photographs represent territories of the seen, remembered and photographed, sites in which the "real" might be claimed and re-invented.
In many ways, photography can still be considered a new and empowering medium for Southeast Asian artists working with the image. Its immediacy, and its ambiguity, as a visual language of the real, allows for open and malleable readings of the complex and sometimes confounding, even incredible, realities which shape our peculiar experiences. Conversely, those realities invite fresh investigations into the meanings and potential of photographic images and processes.
This exhibition gathers selected bodies of work by 16 artists from around the region who employ photography as a primary medium, or as a key medium within multi-disciplinary practices, highlighting a range of strategies through which these artists have claimed photography as a site of cultural, geographic, social and personal discourse.
This is the first exhibition in the  [SEA] programme at LAF,  a series of annual exhibitions and talks aimed at building a greater understanding of Southeast Asian contemporary art contexts and practices.
PARTICIPATING ARTISTS
Amanda Heng (SG)
Angki Purbandono (ID)
Davy Linggar (ID)
Gina Osterloh (PH/US)
Isa Lorenzo (PH)
Ismail Hashim (MY)
Julia Sarisetiati (ID)
Kornkrit Jianpinidnan (TH)
Lena Cobangbang (PH)
Manit Sriwanichpoom (TH)
Paul Kadarisman (ID)
Poklong Anading (PH)
Steve Tirona (PH)
Wimo Ambala Bayang (ID)
Yee I-Lann (MY)
Zhao Renhui (SG)
[SEA] TALKS SERIES
A day of talks will be held at LAF on
Saturday, 10 December 2011
10:00 AM – 05:30 PM
[for registered participants]
SESSION 1:
Adeline Ooi and Beverly Yong
Guided tour with Q & A sessions
10:00 AM – 12:00 AM
————-Lunch break————
SESSION 2:
Patricia Levasseur de la Motte
From photojournalism to conceptual
photography: The emergence of art
photography in Cambodia, Myanmar,
Singapore and Vietnam
01:00 PM – 03:00 PM
————-Coffee break———–
SESSION 3:
Zhuang Wubin
Independent photography in Southeast
Asia since 1980
03:30 PM – 05:30 PM
For more info, or to register for the guided tour and talks, please contact Ms. Mala at +6281215500083 or info@langgengfoundation.org
SUPPORTED BY: ROGUEART
With thanks to:
Muzium & Galeri Tuanku Fauziah, Universiti Sains Malaysia
Silverlens Foundation
Mr Hermanto (Garis Art Space)
Pakhruddin & Fatimah Sulaiman
Download the PDF catalogue here