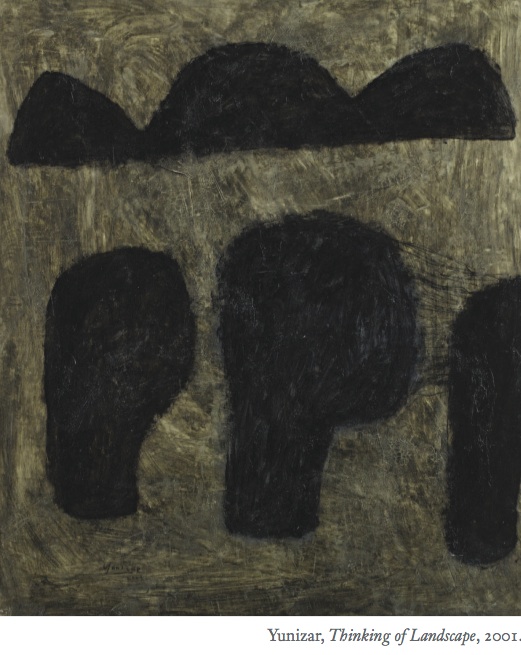 Thinking of Landscape: Paintings from the Yeap Lam Yang Collection
8 March – 16 April 2014
Institute of Contemporary Arts, Galleries 1 & 2
LASALLE College of the Arts, Singapore
Thinking of Landscape is a publication and exhibition project based on a selection of paintings from the Yeap Lam Yang Collection. Bringing together sixty works by twenty-six artists from Southeast Asia, China, Taiwan and Australia, it explores ways in which individual artists have drawn inspiration from the landscape subject, probing its formal, emotional, and conceptual potential. The interplay among the paintings presented here reveals correspondences and tensions which might stimulate thinking on the relationship between painting traditions of East and West, on landscape as an ideology, and on its role in the contemporary. On a more intimate level, the project also sheds light on a collector's journey and process.
Artists
Arin Dwihartanto Sunaryo, Chen KeZhan, Chen Ping, Chua Ek Kay, Clifton Pugh, Debbie Ding, Heri Dono, Hong Ling, Hong Sek Chern, Imants Tillers, Ian Woo, John Olsen, Joshua Yeldham, Latiff Mohidin, Mao Xuhui, Michael Lee, Natee Utarit, Ni Youyu, Pacita Abad, Quenten Lee, Romulo Olazo, Shi Hu, Tan Swie Hian, Wang Tiande, Yunizar, Yu Peng.
Thinking of Landscape: Paintings from the Yeap Lam Yang Collection, a 192-page hardback publication, will be launched in tandem with the exhibition. Edited by Beverly Yong and Adeline Ooi, with essays by Charles Merewether and Low Sze Wee, and published by Yeap Lam Yang.