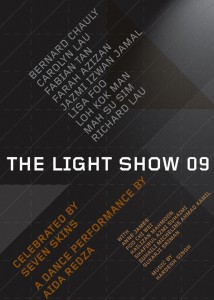 THE LIGHT SHOW 2009
16 April – 3 May 2009
at The Annexe Gallery, Central Market, Kuala Lumpur
7- 23 May 2009
at Galeri Tenaga, Ground Floor, Wisma TNB, 19 Jalan Timur, Petaling Jaya, Selangor.
Participants: Bernard Chauly, Carolyn Lau, Fabian Tan, Farah Azizan, Jazmi Izwan Jamal, Lisa Foo, Loh Kok Man, Mah Su Sim, and Richard Lau.
Inspired and motivated by their respective interests and multi-disciplinary practices, the participants of TLS09 are bound by the commitment to be "greener" and kinder to our environment. In line with the idea of "Upcycling" -ie. taking something that socially (and perhaps artistically) has very little value and transforming it into something of greater use and value, TLS09 also encourages us to take a little time out to consider the way we live and consume, and imagine the potential and possibilities of the most mundane objects surrounding our everyday lives. From PET bottles to milk cartons, plastic shopping bags to drinking straws, phased out incandescent light bulbs to old-skool cola bottles, these modest materials have been rescued, re-used and re-imagined as light sculptures, whimsical one-off items and contraptions, interactive installations, useful objects and many more.
The exhibition opening will be celebrated by SEVEN SKINS, a dance performance by Aida Redza & friends.
SEVEN SKINS
Choreographed by Aida Redza
Performed by Aida Redza, Anne James, Foo Chi Wei, Hailizan Mahmoon, Shafirul Azmi Suhaimi, Suhaili Micheline Ahmad Kamil and Sukarji Sriman
Music by Hardesh Singh
Costumes by Carolyn Lau and Lisa Foo
Stage managed by June Tan
Videography by Nazim Esa
TLS09 is made possible with the support from The Krishen Jit-ASTRO Fund, Galeri Tenaga, GDP Architects and Balai Seni Lukis Negara (National Art Gallery)
Please click here for downloadable version of pdf catalogue
Reviews :
"The Light Show 09" by Yet Mee | emmagem.com | April 28, 2009