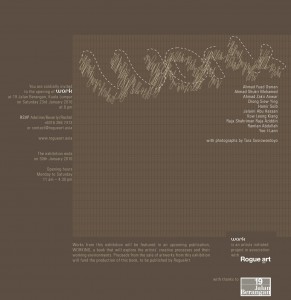 WORK
23 to 30 January 2010
at No. 19 Jalan Berangan, Kuala Lumpur 50200
According to John Elkins, an artist studio is 'a necessary insanity'. Working in a studio means leaving the organized world of normal life and moving into a shadowy domain where everything bears the marks of one's singular obsession. The events that take place in the studio –how a work is formulated, what happens during its making, the actual conduct of material and behaviour of an artist, the struggles and frustrations, and at times the state of inertia– is private world privy only to the artist.
The works from this exhibition will be featured in an upcoming publication titled WORKING. This book will examine the relationship between individual artist processes and their respective working environments across different media. With photography by Tara Sosrowardoyo and interviews with artists by Chai Chang Hwang, Nurhanim Khairuddin, Adeline Ooi and Beverly Yong, this publication hopes to communicate the experience of working in a studio from the perspective of 10 of Malaysia's most exciting practitioners.
WORK artists are:
Ahmad Fuad Osman
Ahmad Shukri Mohamed
Ahmad Zakii Anwar
Chong Siew Ying
Hamir Soib
Jalaini Abu Hassan
Kow Leong Kiang
Raja Shahriman Raja Aziddin
Ramlan Abdullah
Yee I-Lann
Proceeds from the sale of artworks from this exhibition will fund the production of WORKING. RogueArt is the publisher of the book.
With thanks to 19 Jalan Berangan.