Uncategorized
Comments Off

on Where Art Happens at 19 Jln Berangan
It was a busy June for RogueArt. We've been meaning to put up these pictures from our Where Art Happens talks series but the three of us seem to be running relay in and out of KL.
Our series of three Saturday talks was all in all a great success thanks to our wonderful speakers from both Malaysia and abroad, our sponsor Yayasan Sime Darby, media partner Off The Edge, as well as to the fantastic audience, especially those who faithfully came for the full whack. We ourselves were impressed with the turnout, and salute all those who came for their dedication to the issues surrounding art in our community.
Session 1 – Art Spaces: Policies, Agendas and Ways Forward got off the ground with a most venerable panel of speakers – Dr Najib Dawa, Director-General of our National Art Gallery, Ahmad Mashadi, Head of Singapore's NUS Museum, Hasnul J Saidon, Director of Muzium & Galeri Tuanku Fauziah at USM in Penang, and Iqbal Abdul Rahim, Creative Producer for Bank Negara Malaysia Museum and Art Gallery. It was a lesson in the challenges facing institutions dealing with art today, but it would seem that there is a general recognition of changing contexts and a sense of investment, particularly for the university museum-galleries, in developing future generations of audiences. It was particularly exciting to get a peek at the plans for the new Bank Negara museum and gallery which looks extremely impressive, and while it is very much a multi-faceted institution dedicated to more than just art, we're sure it will make a big impact on our corner of local civilisation.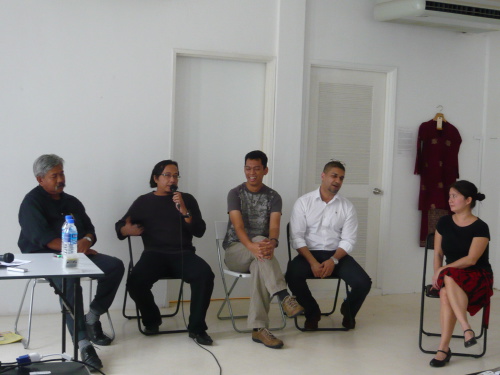 L-R : Dr Najib Dawa, Hasnul Saidon, Ahmad Mashadi, Iqbal Abdul Rahim & Beverly during a floor discussion
In the afternoon Rifky Effendy an indendent curator from Indonesia who took us on a quick tour of the Indonesian art scene which has changed dramatically since the regional market began to boom a few years ago. Pang Khee Teik, Programme Director of the Annexe Gallery waxed political and philosophical on the dangers of art policy, and the advantages of organic development (complete with arm movements). Simon Soon, a local independent curator, made a sweep of independent and alternative spaces in the region, showing us the breadth and depth of bold and exciting artists' intitiatives from Malaysia to Indonesia, Thailand and Vietnam. Syed Nabil represented the largest sector of non-institutional spaces in Malaysia – private galleries, telling the story of his own space NN Gallery.
Surprisingly there weren't many challenges from the floor, although one attendee did comment that it was all a lot to take in….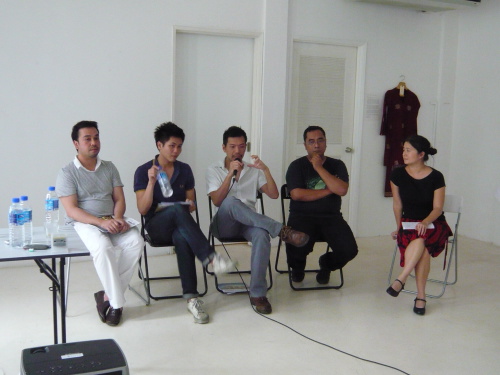 L-R: Syed Nabil, Simon Soon, Pang Khee Teik, Rifky Effendy & Beverly
Session 2 – Getting Out There: Art in the Community attracted the biggest crowd. It was a pretty international event, with artists Amanda Heng from Singapore and Tran Luong from Hanoi, Reza Asung Afisina & Ardi Yunanto from ruangrupa Jakarta, and Defne Ayas of ArtHub and Performa from Shanghai. From our home corner Hari Azizan talked about various Five Arts projects in the community such as Asian Youths ArtsMall, Lim Kok Yoong talked about the Let Arts Move You project on KTM trains and at KL Sentral Station in 2007, and Yap Sau Bin showed off the brilliant just released DVD of the Contemporary Art in Schools Project at Stella Maris school last year, managing to sell a few copies that day. This session was moderated by Eva McGovern. It was all very inspiring, and we had lots of audience feedback (with some pondering on the age-old question of the role and identity of art), and we hope to see more beautiful art-in-public/public art initiatives in our back yard soon.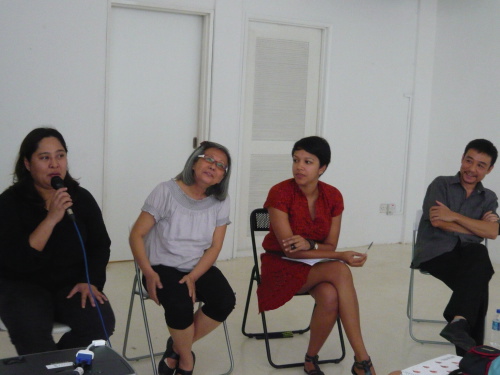 L-R: Hari Azizan, Amanda Heng, Eva McGovern & Tran Luong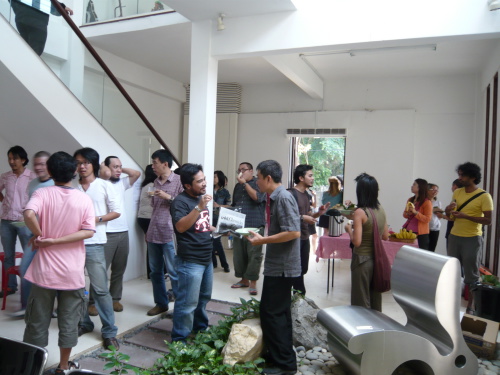 The crowd catching up with friends during lunch break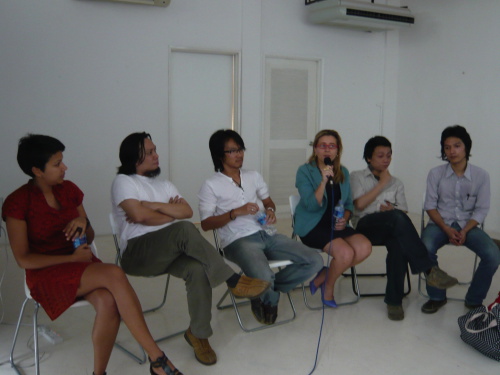 L-R: Eva McGovern, Yap Sau Bin, Lim Kok Yoong, Defne Ayas, Reza Asung Afisina & Ardi Yunanto
Session 3 – Feeding Creativity: Art Residencies and Grants had givers (in the morning) and takers (in the afternoon) give their viewpoints on the worthy practice of funding fine art.  Rahel Joseph talked about the two residency programmes she had initiated, for the Australian High Commission (Sydney) and for Galeri Petronas (Beijing), while Angela Hijjas described the RImbun Dahan residency programme(s) updated us on its latest developments, hinting at possible new programmes in Penang and Yogyakarta. Stephanie Yeap talked about the RBS-Malihom AIR programme in Balik Pulau while HOM (House of Matahati) was represented by Bayu Utomo Radjikin who told off many great initiatives by HOM including their residency programme, art competition, artists' fund and fundraising events. Mella Jaarsma, co-founder of Cemeti Art House came to share her experiences from their Landing Soon residency programme and how Cemeti will expand on this to be a residency-based project space from next year onwards. Marion d'Cruz talked of the good work of the Krsihen Jit-ASTRO fund, and her experience with Artists' Network Asia (ANA), and noted how there was a positive increasing trend of artists giving to artists.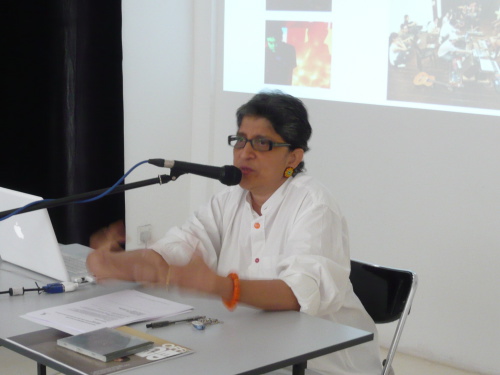 Marion d'Cruz speaking about 5 Arts Centre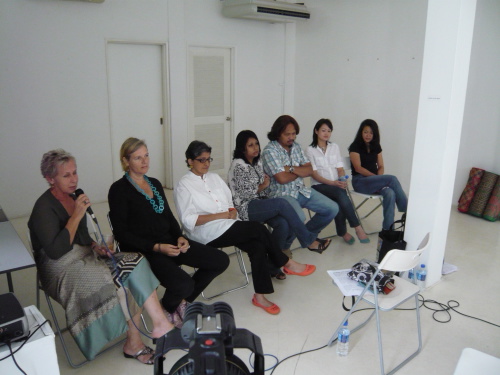 L-R : Angela Hijjas, Mella Jaarsma, Marion d'Cruz, Rahel Joseph, Bayu Utomo Radjikin, Sharon Lai & Stephanie Yeap
By the afternoon, things had got pretty relaxed. The last panel of the series included residency/grant veterans Malaysian artists Ahmad Fuad Osman, Chang Yoong Chia, Ise and Vincent Leong, a handsome young crew who gave eloquent presentations on the ups and downs of residency experiences (80% ups) – not being able to speak Korean, bureaucratic issues in the land under JB, the efficiency of the Taiwanese, the luxury of time and of Rimbun Dahan,freezing in Vermont, partying in Oz. We saw some of the work they did out there, too.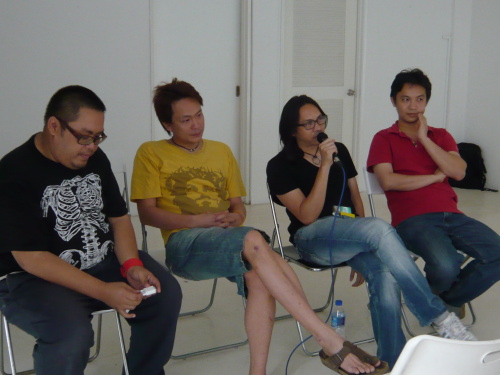 L-R: Roslisham Hashim (Ise), Vincent Leong, Ahmad Fuad Osman & Chang Yoong Chia
We'd just like to say thank you once again to our speakers, our sponsor Yayasan Sime Darby, media partner Off The Edge, and everyone who came and made the talks a worthwhile initiative. We hope to make this a yearly event, addressing different pressing issues for the art community.
We are preparing a fuller report on the talks which we will publish on our Projects page in the near future, so please do post here any comments or feedback on the talks series you feel may be of interest.
Meanwhile, check out our Where Art Happens art map, published in the June edition of Off The Edge, reproduced here.
December 9th, 2009
|
Tags: 5 Arts Centre, Ahmad Fuad Osman, Ahmad Mashadi, Amanda Heng, Angela Hijjas, Ardi Yunanto, Art Hub, Bank Negara Museum & Art Gallery, Bayu Utomo Radjikin, CAIS, Cemeti Art House, Chang Yoong Chia, Defne Ayas, Dr Najib Dawa, Eva McGovern, Hari Azizan, Hasnul Saidon, House of MATAHATI, Iqbal Abdul Rahim, LAMU, Lim Kok Yoong, Malihom, Marion d'Cruz, Mella Jaarsma, National Art Gallery, NN Gallery, NUS Museum, Pang Khee Teik, Rahel Joseph, Reza Asung Afisina, Rifky Effendy, Rimbun Dahan, Roslisham Hashim (Ise), ruangrupa, Sharon Lai, Simon Soon, Stephanie Yeap, Syed Nabil, The Annexe, Tran Luong, USM Galeri, Vincent Leong, Where Art Happens, Yap Sau Bin